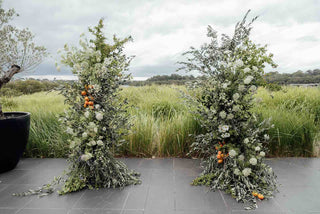 Modern Sydney Wedding Flowers
We specialise in turning your unique vision to life through flowers.
We've been creating unique wedding flowers that are modern and luxurious for Sydney weddings and couples since 2014. Texture, colour and interesting lines and flourishes are all aspects that inspire us creatively within our wedding flowers and designs.
We're inspired by the wild outdoors, fine art and travel. We design with intuition and soul, have a passion for texture, tone and designing with intention. Each placement has a purpose, and each flower has its moment in all our designs.
We'd be the best fit if you're looking for a floral designer that:
Creates natural-looking and airy designs (not stiff and bulky)
Features beautiful, whimsical flourishes (not perfectly shaped and old-school)
Designs with intention (not being wasteful or thoughtless)
Considers environmental sustainability (not mindlessly using floral foam all the time)
We celebrate and specialise in all types of weddings, sizes, locations, styles, traditions, and genders. Whilst we are a Florist in Sydney, we often travel across Sydney, Greater NSW and beyond for destination wedding flowers.
If you're yet to book in a wedding venue, we recommend checking out one of our featured wedding venues and our favourite outdoor garden wedding venues shortlist!
Get in touch with us for an initial enquiry, and we'll be in touch with more info based on our availability.
Unique Sydney Wedding Flowers | Best Sydney Wedding Florist